About
My name is Rick Drasch and I've been developing commercial software since 1974.
I have a Masters Degree in Computer Science, I've been developing for Windows since day one, and I love Media Center and Windows Home Server.*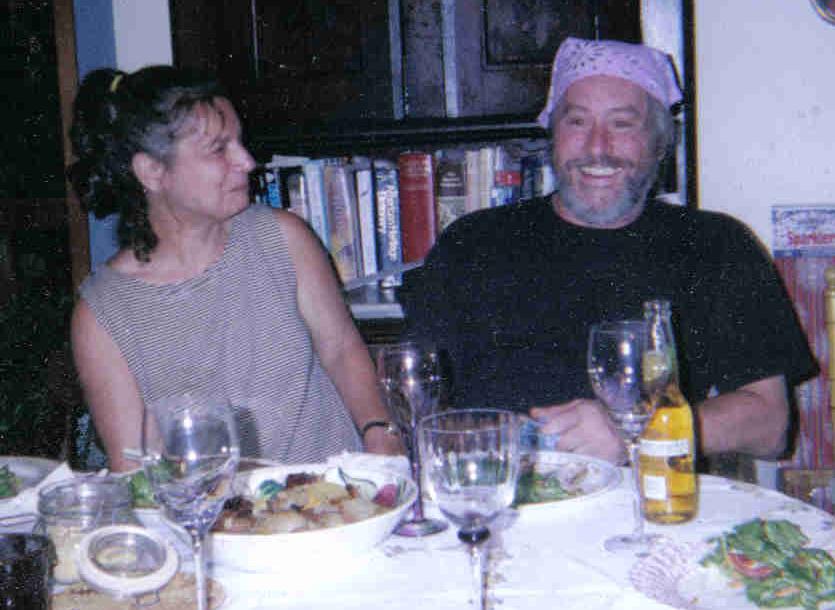 me and donna
"a TV set I could program!..."
TIME SHIFT: the way I look at it, it's a matter of time-shifting, i.e., shifting the time that the program is "broadcast" on MY TV
February 2015
*(Unfortunately, WHS is dead and Media Center is dying a slow death and I have a few thousand recordings in .wtv and .dvr-ms format.)
My TV system architecture is a distributed wired system. Each TV is driven by it's own ZOTAC computer with solid state HDD and HDMI running Windows 8.1 with Media Center using a Media Center remote.
I have one additional ZOTAC computer running Media Center and Recorded TV Manager 4.1. This is the Uber DVR and it manages all the recording schedules (Media Center) using the HDHomeRun tuner. Recorded TV Manager manages the recordings and automatically distributes them to the computer where we plan to watch them, or to a storage location (collections) for later viewing (time-shifting). Current programming that my wife and I watch together is moved to the computer in the TV Room. Stuff that I like to watch while I'm cooking is moved to the computer in the Kitchen. Storing the recordings locally on solid state drives provides the best video performance possible with this hardware and Media Center.
Windows 10: I've been looking at Windows 10 and it's not clear if Media Center will still be available. My guess is Yes, but I've started investigating alternative ways (I'm developing a Windows Store App) of viewing my Media Center recordings without Media Center.
March 2013
Finally made the switch to all-digital which meant giving up Channel 80 which was an analog whole-house DVR solution. I'm using local Zotac MAG computers (Windows 8) to drive the HD televisions over a wired network. The Media Center UI is MUCH better than the cable company box, so I'm sticking with Media Center. I also upgraded to HDHomeRun Prime with a CableCard and 3 tuners. Setting up the CableCard was the most difficult part of the transition and ultimately required a visit from the cable guy. Overall, a worthwhile change which has improved our viewing experience. Recorded TV Manager 4 is adapting well to the new network environment.
September 2012
Still running Channel 80 (see below) but I have a new 64bit machine running it and also now running Recorded TV Manager 4 on that machine. I'm still running my Windows Home Server (Version 1), but I no longer run the Recorded TV Manager Add-in because Recorded TV Manager 4 is more powerful and much faster. Still adding large HDDs to store my collections which is now over 1200 recordings (2TB) stored on 5 different computers.
---
June 2010 - Added a single tuner HDHomeRun to the network which is being used by the Zotac MAG to watch and record HD programming off the basic cable. It was a lot of work to set up, but turned out to be an excellent combination.
---
May 2010 - Built a 64-bit machine for 64-bit development and Vail testing.
---
April 2010 - Added a Zotac Mag Mini-PC to drive a Sony Wega over HDMI. Also added a larger WHS as my principle server network.
---
July 2009 - I've added some new hardware and retired some others, but overall the basic setup is the same and Recorded TV Manager is working fine. New hardware includes a Windows 7 Media Center machine, and a Linksys Extender running off another Windows 7 machine is driving Channel 80 now. Also added another WHS network just for testing.
---
January 2008 - Windows Home Server - Home built, Celeron D 3.33 GHz, 1GB Ram, 2 x 300GB HDD. I built this machine when the first Beta of WHS came out and it's working fine. It's been running the Recorded TV Manager Add-in continuously since last summer.
Windows Vista Ultimate - Sony Vaio, P4 Duo, 3.2GHz, 1GB Ram, 3 HDD (185GB, 150GB, 250GB), 2 tuners, RADEON dual monitor.
This is my primary Media Center machine where we watch TV and I test everything. It is also the development machine for the Vista Media Center Add-in. The s-video output of monitor 2 feeds Channel 80 (see below). It was a store-bought Media Center machine from a few years ago. I added the second tuner and 2 HDD to store recorded TV. This machine was used for the Vista and Media Center betas and, before the WHS, ran Recorded TV Manager 2. It also supports a Linksys DMA2100 Media Center Extender for testing purposes. (The Extender makes a great radio for my office.)
---
Windows XP Media Center 2005 - Dell Dimension 8200, P4 2.2GHz, 768MB Ram, 2 HDD (80GB, 40GB), 1 tuner, NVIDIA dual monitor.
This is my primary development machine but it still runs Media Center and records stuff in the background. Recorded TV Manager moves most of it elsewhere because of the small HDD. It still supports a Linksys extender in the guest room. Before the Vista Media Center machine, this machine ran Channel 80.
Other computers - Vista Ultimate without a tuner, but stores and watches recorded TV. Plus three XP machines.
Networking - Ethernet with a Linksys Gigabit switch and cat-6 cabling. Also a wireless access point for Donna's laptop and the extender in the guest room.
Using hardware from Avcast, I intercept the incoming cable signal, block incoming channel 80, and then lay the s-video (monitor 2) output of the Vista Media Center on channel 80, which is then fed back into the house wiring. Any television set in the house which is connected to the existing cable line can watch Channel 80 (Media Center). They can also watch every other channel totally independent of Media Center.
There are Media Center controllers in both the TV room and our bedroom which can control Media Center (Channel 80), which is actually in the office. In the office I can use monitor 1 of the Media Center machine to do other stuff while running Media Center in full screen mode on monitor 2 (Channel 80). I can also use Recorded TV Manager Client running on monitor 1 to play any recorded TV from anywhere on the network. It will play full-screen on Channel 80.
The Media Center folder on the Vista Ultimate machine represents the Recorded TV list on Channel 80. Recorded TV Manager insures that the next episode of only the series we are watching at this time are in the Recorded TV list, which simplifies day-to-day TV watching ("time shifting"). Everything else is buffered on the Home Server, or one of the other machines.
I really enjoy putting a live sporting event on Channel 80 and then tuning every TV in the house to Channel 80. Very Max Headroom.
Women's Chicago Bears Mike Ditka Majestic Navy Hall of Fame Fair Catch V T-Shirt,Youth Green Bay Packers Aaron Rodgers Nike Green Limited Jersey.Women's Buffalo Bills '47 Brand Royal Flanker MVP V-Neck T-Shirt,Men's Philadelphia Eagles New Era Red/White Fillz Cuffed Knit Hat,NFL Pro Football Hall of Fame: 85 Years of Greatness DVD Nike Vikings Women Jerseys.San Francisco 49ers Football Pet Bowl,Mens Pittsburgh Steelers Black Touchback VI Full Zip Hoodie -.'47 Brand Jacksonville Jaguars Striker Full Zip Vintage Hoodie – Black,Men's San Diego Chargers '47 Brand Navy Fairfax Cuffed Knit Hat with Pom Minnesota Vikings 2016 Season.Women's Los Angeles Rams Pro Line Gray Reversible Jacket,Seattle Seahawks Teamball Acrylic Cut License Plate,Men's Miami Dolphins Majestic Black Big & Tall Tip Full-Zip Hoodie Teddy Bridgewater Of Minnesota Vikings.Denver Broncos Riddell Navy Mini Speed Helmet,Infant New Orleans Saints Gray 2-Pack This is Football Long Sleeve Bodysuit Set,Men's Green Bay Packers Antigua Green Icon Desert Dry Polo.Green Bay Packers Dashboard Bobblehead,Nike San Diego Chargers Youth Girl's Philip Rivers Game Team Color Jersey,Women's Dallas Cowboys Navy On The Fifty Super Bowl VI Winner Tri-Blend V-Neck T-Shirt.Houston Texans 6'' x 6'' Metallic Logo Decal,Men's Philadelphia Eagles New Era Gray Sport Knit Hat The Best Minnesota Vikings Jerseys
---
Copyright © 2012,2015 Drasch Computer Software.
http://www.fjdrasch.com