Kansas City Chiefs Team Logo Cufflinks,Women's New York Giants Damask Apron,Women's Minnesota Vikings Pink Stella Full Zip Hoodie.Men's Carolina Panthers '47 Black Est. Date Clean Up Adjustable Hat,Men's Los Angeles Rams Pro Line Gray Hector T-Shirt,Philadelphia Eagles Women's Play Time Tank Top - Midnight Green Cheap Washington Redskins Nfl Womens Jerseys.New Era New York Giants Retro Circle Cuffed Knit Beanie - Royal Blue/Red,Washington Redskins iPhone 6 Solid Case,Indianapolis Colts Laptop Carry Case.Women's Washington Redskins Junk Food Black Sunday Sweatpants,Infant San Diego Chargers Majestic Gray Little Player Creeper, Bootie & Bib Set,Women's San Francisco 49ers Nike Scarlet Core Fan Marled Tank Top.San Diego Chargers 16oz Cheap Washington Redskins Kirk Cousins Jersey. Logo Striped Glass Latte Mug,Detroit Lions Light Blue Oversize Logo iPhone 5 Hard Case,Denver Broncos Zombie Vintage Bobblehead.Men's Houston Texans Brown Billfold,Women's Cincinnati Bengals Majestic Black/Orange Draft Me Fashion T-Shirt,Nike Houston Texans Unleash T-Shirt - Navy Blue.Women's Cincinnati Bengals Concepts Sport Orange Facade Long Sleeve Hooded Pajama Top,Men's Denver Broncos Nike Orange Legend Just Do It Performance T-Shirt,Mens Pittsburgh Steelers Majestic Black Telepatch Pullover Hoodie NFL Jerseys Sale.Antigua Miami Dolphins Women's Signature Full Zip Hoodie - Aqua -,San Francisco 49ers New Era Black NFL Fundamental Tech 2 9FORTY Adjustable Hat,Men's Kansas City Chiefs Nike Gold Logo T-Shirt The Washington Redskins
tvPlayNext - Windows 10 Store App - Beta 1
August 11, 2015
Looking for Recorded TV Manager 4.1? Click here.
Release 1 (1.1.2.8)
This is Beta software and may contain errors or other problems. Please sent comments and suggestions to support@fjdrasch.com.
---
This software is specific to TV recordings made by Windows Media Center.
This software is not a video player, it is a file selection utility specifically designed for watching episodic TV recording collections.
---
tvPlayNext is designed to simplify watching collections of Media Center recorded TV programs on Windows 10 (W10). Since Microsoft has explicitly removed Media Center from W10, we need another way to select and play those TV recordings (dvr-ms and wtv).
SELECT - First identify the network folder which holds the recorded TV collections. tvPlayNext will then access the metadata stored in those recordings and display the files by series name and original air date rather than by filename. This organization is intended to facilitate watching a series from start to finish.
Note that you can change the folder by clicking the "Change" button on the bottom app bar on the tvPlayNext main page. You can open the bottom app bar by either swiping up from the bottom or right-clicking the page background.
PLAY - In order to play recorded TV the host system must have some sort of app which can play Media Center files. There are media player apps in the W10 store, search on "Media Center". VLC Media Player also works with TV files. Windows Media Player will also play TV files if the right codecs are installed. If you have a particular app that works for you, let me know and I will post additional information here as it becomes available.
When you press or click the PLAY button the software will open the TV file using the default video player for the file type being played (dvr-ms or wtv).
Note that the program 'remembers' the last watched episode and will pre-select the next recording by original air date in subsequent lists.
---
Known Problems With This Build
This software has not been tested under all screen resolutions. In some cases, the tvPlayNext screen will need to be resized when first run. The window frame is resizable and should remember the change in subsequent sessions.
W10 does not remember the default application for recorded TV files. As a result, every time you Play a file you will need to select OK to "Keep using this app";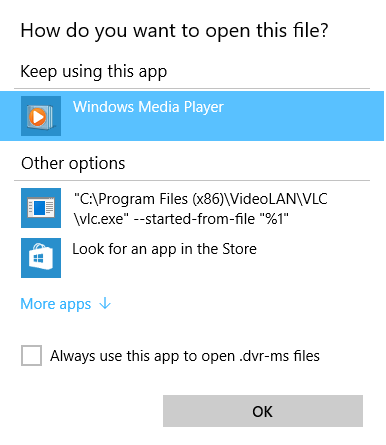 I worked with Microsoft Technical Support on this. This is a limitation in W10 which will not get fixed because it involves Media Center. There is also no work around for this problem. Fortunately it is only minor and require just one more press or click to continue. As long as there is an appropriate app registered as the default app for dvr-ms or wtv files, it will work as intended.
---
Copyright © 2012,2015 Drasch Computer Software.
http://www.fjdrasch.com