Topics: V4 Home Download Installation Help Release Notes
User Interface
Recorded TV Manager 4.1
Recorded TV Manager provides a standard Windows File Explorer-style interface which is specifically designed for TV recordings produced by Windows Media Center. Most items in the user-interface are self-explanatory and will not be discussed here.
---
Use the Refresh button to refresh the view and also to update various data files. Sometimes if the Recorded TV Manager 4.1 interface is running and independent actions such as the SmartMove service move or delete recordings, the Recorded TV Manager 4.1 display will get slightly out of sync. Use Refresh to get back in sync.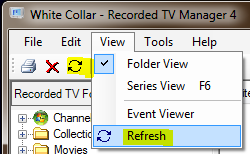 ---
Recordings which are played from the Recorded TV Manager 4.1 interface will start in the default program for TV recordings, which is Media Center. If the software is running on a system without Media Center, it will play recordings using Windows Media Player.
Select a series in the left pane and click the Play Button to play the next episode of the selected series according to original air date.

To play a specific episode , right click the episode and select Play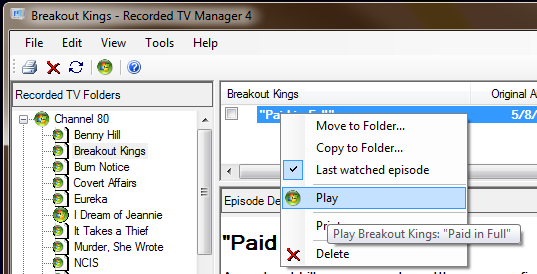 ---
Left-click and drag an item to MOVE it to another folder.
Right-click and drag an item to COPY it to another folder.
Items which reside in a folder designated as Read Only can only be Copied.
---
Access the Search menu from the Tools Menu.
Enter the text to search for and then press Enter to start the search. The Title, Description, Actors and Director fields will be searched, depending on the setting of the Search Options.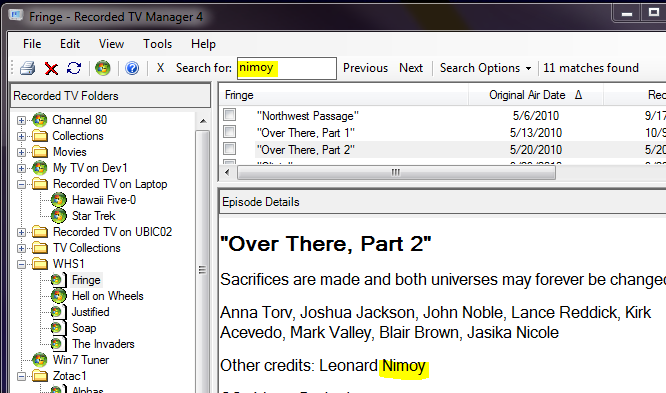 Click the 'X' to close the Search bar or un-check it on the Tools menu.
---
All of the components of Recorded TV Manager 4.1 write messages to the Recorded TV Manager Event Log. The Event Viewer program provides a real-time view of these events.
To start the Event Viewer, from the Start Menu >> Recorded TV Manager run the Event Viewer application.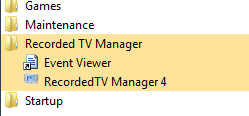 You can also run the Event Viewer from the View menu in Recorded TV Manager 4.1.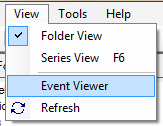 The most recent event message is always on top. The Event Viewer runs in an always-on-top window.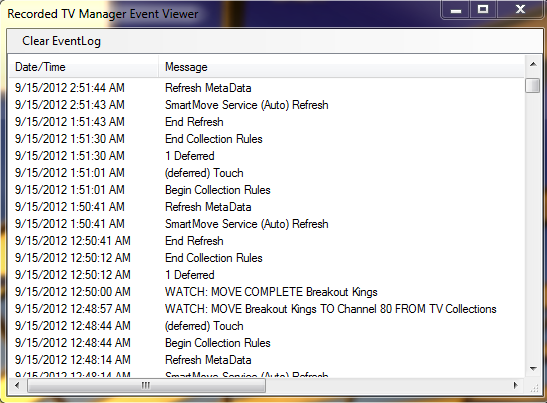 The software also writes error messages to the event log to help diagnose problems.
---
If the computer on which a folder in the Folder List resides is turned off, goes to sleep or is otherwise not available, the folder will be marked as unavailable in the user interface as a red circle with an X. No actions can be applied to unavailable folders.

San Diego Chargers 29" x 43" Glitter Suede House Vertical Flag,Women's Pittsburgh Steelers Majestic Gray Strong Play Fleece Pants,Women's Pittsburgh Steelers Nike Black Stadium Fan Top San Francisco 49Ers Jerseys.Infant Cleveland Browns '47 Brown Little Monster Knit Beanie,Men's Chicago Bears Super Bowl Champion Commemorative Slide Slippers.Men's Philadelphia Eagles New Era Black/Midnight Green Bind Back 9FIFTY Adjustable Hat,Women's Kansas City Chiefs Satchel Handbag Purse.Men's Indianapolis Colts Concepts Sport Camo Knit Pants,Women's Tennessee Titans New Era White Glitter Glam 9FORTY Adjustable Hat,Youth Miami Dolphins Camo Sublimated Synthetic T-Shirt.Miami Dolphins Tiffany Table Lamp,wholesale nfl plush blankets,cheap nfl coats or jackets,Jacksonville Jaguars Women's Tri-Natural Rhinestone Scoopneck Tri-Blend T-Shirt - Black.Men's Chicago Bears Pro Line Orange Duval II Big & Tall Long Sleeve T-Shirt,Men's San Diego Chargers Antigua White Icon Desert Dry Polo,San Francisco 49ers Women's Plus Sizes Tapered Fleece Pants - Scarlet San Francisco 49Ers Uniforms Jerseys.Men's Carolina Panthers Black Field Position Pullover Hoodie,Antigua San Francisco 49ers Signature Pullover Hoodie - Scarlet,Men's Chicago Bears Klew Navy/Camo Big Logo Shorts San Francisco 49Ers Jerseys Colors.Mens Baltimore Ravens Pro Line Black Soft Shell Big & Tall Jacket,Men's Los Angeles Rams Mitchell & Ness Gray Retro Sweatshirt,Men's Baltimore Ravens '47 Black Franchise Fitted Hat San Francisco 49ers Jerseys Nike
---
Copyright © 2012,2015 Drasch Computer Software.
http://www.fjdrasch.com