Topics: V4 Home Download Installation Help Release Notes
Release Notes
---
Recorded TV Manager 4.1
Updated: February 20, 2015
Build# 7.3.1
Changes in this build:
Bug Fixes - Known errors were fixed or handled, the result being that the overall software, especially the user interface, is more stable than the previous version.

Check on Delete - Made further improvements to the Check on Delete functionality which is a part of the Series Info database. Automatic Check on Delete is still a work in progress.

Windows Compatibility - Recorded TV Manager 4.1 is compatible with both Windows 8.1 and Windows 10. Recorded TV Manager 4.1 does not run correctly on Windows 7 and is not supported for Windows 7. If you're still running Windows 7, then download Recorded TV Manager 4. If you're already running Version 4 on Windows 7 then you have the latest version available for Windows 7.

Recorded TV Manager does NOT require Windows Media Center. However, you can't play the Media Center recordings without either Media Center, or some alternative, of which there are many.

New in Version 4.1 NEW SmartMove Command - DELETE AFTER. Automatically delete recordings after a certain amount of time. See here...

Run as Administrator - Recorded TV Manager 4.1 now requires administrator privilege and you must say "Yes" to UAC.
---
Recorded TV Manager 4
January 4, 2013
In some circumstances, Check On Delete does not work correctly. The net effect is that the software never sees the deleted files in the OnDeleteList, so Check On Delete doesn't work. You can "Check" episodes manually through the Recorded TV Manager 4 user interface. This problem is already fixed and will be included in the next program update.
---
September 24, 2012
---
This is not a Metro-style interface.
The installer adds two tiles to the Start Page, one for Recorded TV Manager 4 and the other for the Event Viewer. The installer also adds a Recorded TV Manager shortcut to the desktop.
The software installs and works correctly on Windows 8.1 and Windows 10. If Media Center is not on the machine, recordings will Play using Windows Media Player, but there may be issues with playback of wtv or dvr-ms recorded television files.
---
To run a refresh cycle immediately, which includes applying the Collection Rules, select Apply Now from the Tools menu.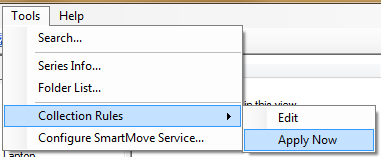 Use the Event Viewer to view the events in the Recorded TV Manager event log.

VERY IMPORTANT: Do not run Apply Now if there is already a refresh cycle running on the machine.
The only way to verify if there is a refresh cycle running already is to run the Event Viewer and check. If there is a refresh cycle already running, wait until the "End Refresh" event before initiating another refresh cycle using Apply Now.
---
Because the SmartMove Service runs on a one hour timer, there can be a delay between when an action occurs (new, deleted or moved recordings), and when that action is fully reflected in the MetaData XML files. There is no negative effect on the SmartMove service because the first thing it does during a Refresh Cycle is to refresh the metadata XML. However, this lag time can result in the Recorded TV Manager 4 user interface to become slightly out of sync. You can use the Refresh button or the Apply Now function to re-synchronize if necessary.
---
If you have used an earlier version of Recorded TV Manager, you may be able to preserve the SeriesInfo Database file, which is named series.xml.
You will need to locate the file and insure that it's in the Recorded TV Manager Data folder:
If you use a series.xml file created by an earlier version of Recorded TV Manager, you will likely start seeing "Fixup" messages in the event log. As part of the Refresh Cycle, the SmartMove Service will fix some known errors in the SeriesInfo Database caused by those earlier versions. These message will go away over time.
It is not recommended that you use the Folder List file (Folders.xml) created by an earlier version of Recorded TV Manager.
---
Men's Cleveland Browns Nike Brown Legend Logo Essential 3 Performance T-Shirt,'47 Brand Philadelphia Eagles Youth AC Basic Adjustable Hat - Midnight Green Cheap Arizona Cardinals Jerseys Sale.Men's Washington Redskins New Era Burgundy Super Bowl XVII On The Fifty Jumbo Vize Original Fit 9FIFTY Adjustable Hat,Oakland Raiders Santa Gets There Rocket Ornament,New York Jets The Northwest Company 18" x 18" Letterman Pillow Cheap Arizona Cardinals Football Jerseys For Sale.Atlanta Falcons Short Yardage T-Shirt - Gray,Antigua Detroit Lions Womens Signature Full Zip Hoodie - Light Blue,Indianapolis Colts WinCraft Women's Silver Heart Charm Bracelet Cheap Arizona Cardinals Football Jerseys For Sale.Men's Denver Broncos Antigua Navy Blue Icon Desert Dry Polo,Mens Philadelphia Eagles New Era Midnight Green/Black On-Field Player Sideline 59FIFTY Fitted Hat,Womens New York Giants Nike Red Rewind Run Game Tri-Blend T-Shirt Cheap Arizona Cardinals Jerseys Sale.Infant Carolina Panthers Black Football Dreams T-Shirt,Men's Washington Redskins New Era Burgundy NFL Striped Original Fit 9FIFTY Adjustable Hat,Youth Atlanta Falcons Mascot Slippers.Men's Philadelphia Eagles Nike Midnight Green Facility T-Shirt,Men's Kansas City Chiefs Marcus Peters Nike Red Game Jersey,Men's Green Bay Packers Jordy Nelson Green Eligible Receiver II Name and Number Long Sleeve T-Shirt.Mens Tampa Bay Buccaneers Antigua Steel Volt Crew Sweatshirt,Mens Seattle Seahawks Blue Legacy Franchise Fitted Hat.Mens Houston Texans Majestic Navy Blue Line of Scrimmage T-Shirt,Customized NFL Jerseys, Cheap Personalized NFL Football Jerseys For Sale,Seattle Seahawks Earl Thomas III Legion of Boom Bobblehead
---
Copyright © 2012,2015 Drasch Computer Software.
http://www.fjdrasch.com