Topics: V4 Home Download Installation Help Release Notes
SeriesInfo Database
Recorded TV Manager 4.1
The SeriesInfo Database keeps track of all series recordings, even after they have been deleted.
When the software if first installed, the SeriesInfo Database will be empty. When folders are added to the Folder List and their metadata is extracted, they will also be added to the SeriesInfo Database automatically. The SeriesInfo Database will build up over time.
Start the SeriesInfo dialog from the Tools... menu.
Select the series name from the drop-down list.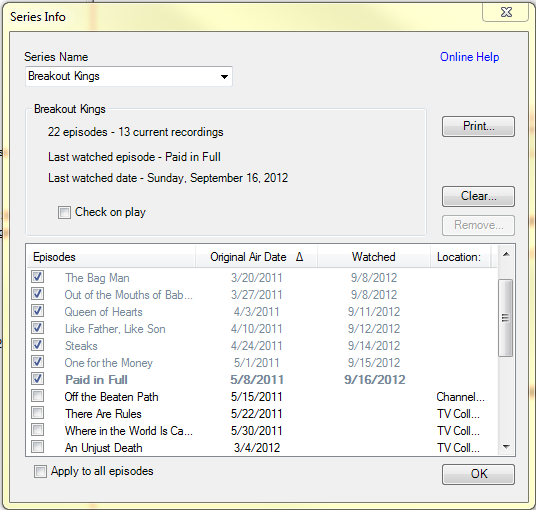 Current recordings include a "Location" which is the name of the folder where the recording resides
Previously recorded and then deleted episodes are grayed out and do not include a Location.
Remove...
Remove a series from the list and delete all history
Note that if there are any current recordings of the series, then the Remove button will be disabled.
To remove an individual episode from the list, right-click the episode and select Delete this episode from the context menu.
Clear...
Clears all watched dates and last watched episode for the entire series.
Print...
Opens a Print Preview window for the series history.
If you watch a recording using the Play function in the Recorded TV Manager 4 user interface, the episode will be automatically checked if this option is checked. This option is series-specific and always defaults to unchecked.
Use this to toggle all episodes as either checked or not checked.
A Checked episode has a checkmark in the associated checkbox. The implied meaning of this check mark is that this episode has been watched. Check marks are retained even after the episode instance has been watched and deleted. Checkmarks can be automatically applied to recordings by the CHECK ON DELETE option in the Collection Rules. Checkmarks can also be added or removed through the Recorded TV Manager 4 user interface.
---
---
Copyright © 2012,2015 Drasch Computer Software.
http://www.fjdrasch.com