Topics: V4 Home Download Installation Help Release Notes
EXAMPLE
Recorded TV Manager 4
The easiest way for me to explain how some of these things work is to use my own working Collection Rules as an example.
What follows is an annotated copy of my rules file as of 9/15/2012.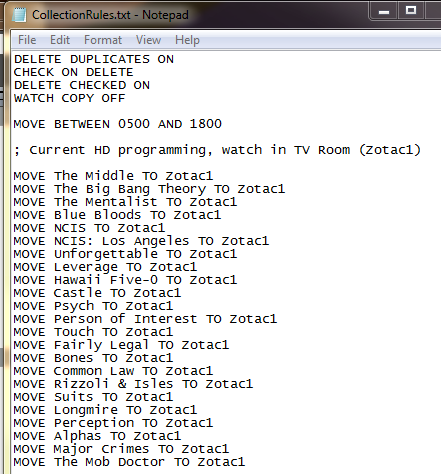 Please refer to the command syntax here.
Note that although I've cut-and-pasted the file into this page, it's actually just one long text file.
Use Notepad or any other text editor to edit the Collection Rules file.
The option parameters are defined first.
MOVE BETWEEN 0500 and 1800
This restricts moving files to daylight hours only, when the computer (Zotac1) is not being used. In this case, moving is restricted to the hours between 5am and 6pm.
Watch in TV room
The Media Center computer in the TV room is called Zotac1 and we only watch current TV series, mostly in HD, on this computer.
Zotac1 doesn't have a tuner and the new HD programming is recorded on another computer using a HDHomerun.
Transport controls like skip, fast forward, rewind, etc. run much better if the files are local but this small dedicated computer only has a 160GB HDD so I only want to store on it what we're watching right now.
I'm using MOVE to move new programming to Zotac1.
---

MOVE ANYTIME
This removes time restrictions and moves recordings at any time.
Note that all the MOVE commands above will only apply between the hours of 5am and 6pm. Everything else that follows will be applied at any time the computers are available.
Watch in exercise room
The computer named Dev1 is my original XP Media Center and development machine. It still has a working tuner (dvr-ms) which I use as a third tuner to record old TV series.
I use this computer as a TV in the exercise room which I watch while I'm working out. I'm currently watching Bewitched and I Dream of Jeannie on Dev1.
---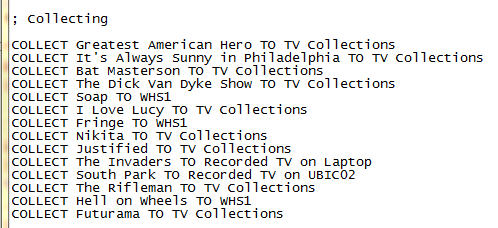 Collecting
These are series which I'm collecting, but not watching at this time.
The folder TV Collections is a 1TB HDD which I use for collections.
The folder WHS1 is the Recorded TV shared folder on my Windows Home Server.
I also store some things on my laptop.
Note that I don't include these collection folders in the Media Center Watched Folder List. As a result, these series do not appear in the recorded TV list in Media Center while they are being collected.
---

Watching
These are series which I am storing on a different computer than I'm watching them on.
Channel 80 is my whole-house DVR. Zotac1 is the Media Center computer in the TV room.
Note that in Media Center I don't include the collection folders in the Media Center Watched Folder List. As a result, only one episode of the series shows up in the recorded TV list. Whenever that episode is deleted then SmartMove will move the next one into the watch folder.
This is the PlayNext function.
---
Watch on Channel 80
Channel 80 is the Media Center computer that runs the whole-house DVR.
These series are all being collected to watch on Channel 80.
Some of these series are new programming but they are not moved to the TV room computer (Zotac1) because they are being watched someplace else and need to be widely available.
See My System for more information about Channel 80.
---

Missing metadata
The metadata in the Benny Hill recordings is incomplete, there are no titles or original air dates. As a result, the AutoDelete options don't work correctly so they are turned off before the COLLECT command is processed.
STOP
Stop indicates the end of the file and stop processing commands.
---
Atlanta Falcons Premium Metal Badge Reel,Women's Cincinnati Bengals Nike Black Stadium Rally Funnel Pullover Hoodie,Men's Miami Dolphins Pro Line Black/Gray Polk Full Zip Wind Jacket.Women's Detroit Lions Nike Gray Wordmark T-Shirt,Men's New Orleans Saints New Era Black Super Bowl XLIV On The Fifty Pop Logo 39THIRTY Flex Hat,Girls Infant Chicago Bears Gray 3-Pack Field Goal Creeper Set Choice Of The Buffalo Bills' Jersey.Mens Chicago Bears Majestic Navy Blue Line to Gain III T-Shirt,Minnesota Vikings 12oz Nike Buffalo Bills Mens Jerseys. Logo Bottle Cooler The Buffalo Bills As The Favourite Team.Mens Washington Redskins '47 Brand Black Cross Check Full Zip Hoodie,New York Giants Twist Titanium Sports 21'' Necklace,nfl wholesale caps and hats,cheap nfl clothing australia,cheap nfl quilts.Mens Green Bay Packers John Kuhn Nike Green Game Jersey,Mens Indianapolis Colts '47 Brand Royal Blue Knockaround Flanker T-Shirt.Men's New Orleans Saints For Bare Feet Quarter-Length Jolt Socks,Youth Philadelphia Eagles Vinny Curry Nike Midnight Green Team Color Game Jersey.Men's Carolina Panthers G-III Sports by Carl Banks Winning Streak Black Swim Trunks,Atlanta Falcons Women's Teamwork Pullover Hoodie - Red.Women's New England Patriots 5th & Ocean by New Era Navy Blue Missy Big Logo Tri-Blend V-Neck T-Shirt,Cincinnati Bengals 3D Foam D-Fence Sign - Orange Cheap Buffalo Bills Custom Football Jersey
---
Copyright © 2012,2015 Drasch Computer Software.
http://www.fjdrasch.com