Topics: V4 Home Download Installation Help Release Notes
SmartMove Service
Recorded TV Manager 4.1
The Recorded TV Manager SmartMove Service is a Windows Service Application (What's this?) which runs whenever the Host computer is running.
The SmartMove Service is installed with Recorded TV Manager 4 and must be configured before it will function properly.
See Configure SmartMove Service log-in account for instructions.
Once the SmartMove Service is configured it runs entirely in the background. The service will automatically restart anytime the host computer is restarted.
The SmartMove Service runs on a one hour timer. At the end of that hour the SmartMove Service runs a Refresh Cycle.
It looks like this in the Event Viewer:

Refresh MetaData
The first thing the SmartMove Service does is check all the folders in the Folder List for any changes and then update the MetaData XML Database automatically. This is the mechanism by which the MetaData XML Database maintains a one-to-one correspondence with all the recorded TV files in the Folder List. The SeriesInfo Database is also updated at this time. The Recorded TV Manager 4 user interface and the Collection Rules both use the MetaData XML Database to speed up access to recorded TV metadata.
The software also creates two lists, the OnCreate List which is a list of all newly recorded (created) files, and the OnDelete List which is list of all files deleted since the last Refresh Cycle. These lists are used by the Collection Rules.
Collection Rules
The next thing the SmartMove Service does is to process the Collection Rules in the file named CollectionRules.txt which is located in the Recorded TV Manager Data folder.
The software is installed without a rules file. If there is no rules file, then the SmartMove Service will skip it and just finish the Refresh Cycle.
If there is a rules file, then it is processed by the SmartMove Service. See here for information about using the Collection Rules.
Use Notepad to edit the CollectionRules.txt file. Open the file for editing from the Recorded TV Manager 4.1 Tools menu.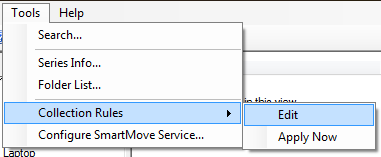 If there is no file, then Edit will create the file, add default options and open the new file.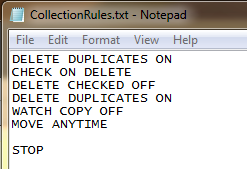 See here for information about using the Collection Rules.
The file must be saved before any changes will become effective at the next Refresh Cycle.
At the end of the Refresh Cycle, the timer is reset to one hour. Note that the time between Refresh Cycle starts is one hour plus however long the last Refresh Cycle took to run. That includes refresh time as well as the time it takes to process the rules file, moving files, and other functions.
Men's St. Louis Rams G-III Sports by Carl Banks Navy Strong Safety Hooded Full-Zip Jacket,Washington Redskins Highland Mint Team Supreme Photomint Cheap Arizona Cardinals Football Jerseys For Sale.Jacksonville Jaguars Infant 2-Pack Pacifiers,Women's New Orleans Saints Majestic Black Lateral Sprint VI Plus Size Pant,Men's Philadelphia Eagles New Era Midnight Green Sweater Chill Cuffed Knit Hat with Pom NFL Jerseys Arizona Cardinals Cheap.Toddler Kansas City Chiefs White 2-Piece Thermal Pajamas,Women's New England Patriots Majestic Navy Blue More Than Enough V T-Shirt,New York Giants Brown Classic Leather Collar.Infant Seattle Seahawks College Navy/White 2-Pack Game Day Long Sleeve Bodysuit Set,New England Patriots Galaxy S6 Dual Hybrid Case.Northwest New York Giants 2-Pack Flameless Candles,Preschool Chicago Bears Navy Blue Team Logo Fleece Pullover Hoodie.Girls Infant Oakland Raiders Black Cheerleader Dreams Creeper,Women's Seattle Seahawks G-III 4Her by Carl Banks Silver Cover 2 French Terry Crew Long Sleeve T-Shirt.Women's Seattle Seahawks Junk Food Steel Touchdown Tri-Blend T-Shirt,Los Angeles Rams Tiffany Table Lamp Cheap Arizona Cardinals Football Jerseys For Sale.New Orleans Saints 10'' Tablet Sleeve - Black,Nike Pittsburgh Steelers Women's S-Series Full Zip Hoodie - Gold,Miami Dolphins Aqua Silicone iPhone 5 Cover NFL Jerseys Arizona Cardinals Cheap
---
Copyright © 2012,2015 Drasch Computer Software.
http://www.fjdrasch.com